Reading Kate Chopin on the Web

Captions

: The novelist & short story 19th century writer of feminist literature, Kate Chopin
. Chopin posing with some of her children.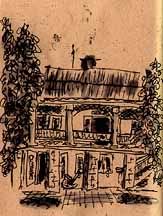 The house where Chopin lived; now a classical masterpiece for tourists and students.
The
Awakening (1877), pictured here and possibly Chopin's most famous novel and sadly, recognised for its genius only after her death. The novel dealt with a modernist feminist literature, on a woman's controversial sexual attitudes that challenged a puritannical American society and where Chopin would be openly and dramatically snubbed by literary critics and society in general. The violent clannish reaction so traumatised the novelist that she almost stopped writing altogether.

A

Wanting a return to reading the classics for the longest time, that desire gripped me with such fervour that I could no longer snub the impulse.
But because I am rushing manuscripts to publishers, I cannot for the sake of my own short time, settle into armchair reading. It would subdue me into a temporary lull, where even a fleeting moment may prove costly or time-consuming.
So I have decided to leave my book collection for the present season where they stay safe in London in a friend's flat and look forward to more tube rides and cold winter afernoons rolling by in warm cafes with me, deeply buried in my favourite reads, later this year.
For now, (the prospect of me ever abandoning a good read must never arise), I have turned to the wonderful incredible techonology of e-reading.
I am one of the fortunate ones, with any easy sense of appreciation for an advanced change that involves the worldwide web.
While I adore my nostalgic reflections, I also seem to understand in one of these few instances how to strike the right balance to move in and out of different mediums that would so benefit me and my writing without hesitation or question.
And I find the internet a super technology where if I didn't take advantage of its necessary benefits, it would be a major loss.
B
My first effort was to read 11 short stories written by Kate Chopin that sprung delicious titles like

The Kiss,

The Locket, A Pair of Silk Stockings

and

The Story of the Hour

. I found that I was able to read a lot faster on the net, which is really good. And I also struck enough of a rich camaraderie with this medium to soon forget that I was reading a story on the Web. It could have well been a book.
Perhaps it was Chopin's ability to draw me in very quickly with her fairly long fiction on the darker secrets of affection and sexual dawnings, that would befall a married man or woman.
Before long, my vision was encased with the glitter of an evening ball or the thread in my skirt, caught on the edge of an old rusty chair at a cheap afternoon matinee.
Affairs on the side or thoughts of what may have been, began to linger like wafts of an old perfume. The stories stayed strong dark and masculine with each plot's volatile impact to a woman's multi-layered temperement. And here too, from where the hushed, intimate tones of lovers from an immigrant Canadian community, whispering meetings in antiquated French dialects were mixed with arrogant plantation slavery, enough to transport me to a faraway world.
Chopin also boasts nice twists to her story endings with emotions that stay sharp, stark and raw to the senses. The remnants of her prose are left in a reader's mind, feeling decidedly haunting and illusive.