On Meeting Dana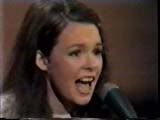 Captions: (l to r) The new hardback. Dana at 17 when she sang her winning song and as she looks today.


I went to meet the former Eurovision winner London-born
Dana Rosemary Scallon
whose song
All Kinds of Everything
had become universally popular in the 1970s, famously striking an inspirational chord with listeners everywhere.
Today, on a Saturday afternoon that still wore Dublin's mild winter weather, the Irish singer was in Eason Books on Lower O'Cornell Street to promote her autobiography. Selling at 22-99 euros, the handsome chunky hardback carries the song title and was just released yesterday.
Already, her political affiliations had bred a few juicy titbits in the papers. Dana had after all, run for the Irish presidential election in 1997.
Of course, I've not yet read it.
Dana still commanded more than her fair share of a throng of admirers. A crowd who had gathered curiously, quickly informed friends and family through their handy cell phones. Many women couldn't get over the lively photographs, splattered in the book. The crowd swelled.
As she signed our copies and offered small chat, sweet old ladies who were determined to ignore security with sly cunning, strode up promptly from nowhere and interjected conversations with relish, if only to tell Dana how much they loved her. She smiled broadly, thanked them profusely and took everything in her stride.
Throughout the session, her air would be one of continued serenity.
Men and women in their 30s, 40s & 50s, made up the bulk of the crowd. There was of course, the odd cranky baby, demanding a toy. Since I had known of this event and arrived early, for the first time ever, I was third in line and feeling pleased as punch.
Dana with her graceful beauty was extremely charming.
She was more than surprised to hear that her song had been played in Asia at all. She never knew, she said, never had the slightest idea. Now, startled, fascinated and pleased all at once, she asked me if it could really be true and prodded me with a few interesting questions. She was clearly pleased that hers had been a household name in countries like Malaysia and Singapore.
Recalling the wonderful memories only too well, I reassured her otherwise.
All of sudden, I was taken back in time to me and my best friends, tiny girls in our school pinafores, fighting over the beloved lyrics, memorizing them by heart instead of completing our homework We would later blare out the number with some passion at school concerts. We also fought over lyrics and made secret pacts with them. Somewhere in this happy cluttered memory, lay my father's old vinyl records.
Still, if I sketched out mischevious episodes it would take forever and may be better saved for later.
Today, in meeting Dana, I felt connected with a blissful childhood once more, facing a remembered past through a very kind mirror. Did I think as a little girl that I would ever meet one of my favourite singers? Isn't destiny the strangest thing?
As I left, I swung open the towering Eason bookstores with a quiet smile and a little of Dana's wistful serenity, having rubbed off on me.
Labels: Dana Rosemary Scallon