Reading Edna Ferber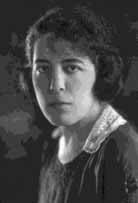 Edna Ferber
Reading leading American authoress, playwright and 1925 Pulitzer Prize winner, Edna Ferber feels like stringing to a lifebelt; you don't know where her fiction & plays will take you in the wide open sea. You're not warned of an early death by drowning akin to struggling with preceding chapters.
I hear warning bells directly while still cautiously enjoying
Buttered Side Down
which is made up of 12 short stories, and which I admit too, make for a tasty slap-up spread.
Ferber's classics are difficult to read almost like a playful ramble...a market woman gossiping by the shade of a busy street. You have a suspicion that the narration never quite begun and that it may yet never end.
Still, her brilliance at tackling the steep, deep side of the grittier imagination was worshipped.
Her novel
So Big
and one of several, was made into a early-talkie starring Bette Davis and Barbara Stanywck and her other work,
Cimaron,
won an Oscar for its film version.
There was also the famous Broadway musical
Showboat
, adapted from a Ferber novel.
Ferber loved fairy tales but never believed in
happily-ever-after
endings.
What happened to the
after's
she asked, when the prince had suffered food poisoning from excessive feasts or in the nasty event that Cinderella's step-mother had deviously provoked a palace cook to murder the chambermaid.
Often as if to offer consolation, Ferber stemmed as a valued supporter for the underdog, showing empathy to the less-respectable elements of working class society. Here the bad would win over good. Still, the lady could be bitchy.
In The Man Who Came Back
, Ferber writes
"...Birdie had a face that looked like a huge mistake,..."
But the most horrifying part: the heroine may have just refused to marry the charismatic hero at the end of a rescue mission. Oh Ferber, ...whatever could you be thinking...
Labels: authors, edna ferber, novelist