Pablo Neruda's The Postman (II Postino)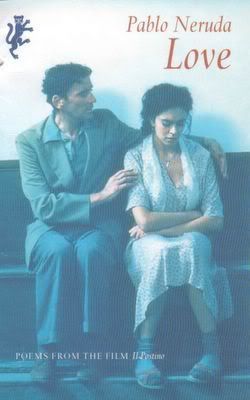 Chiliean poet and Nobel Prize winner, Pablo Nerudo's careful gathering of 10 long poems from the film,

II Postino

(The Postman) LOVE offers inspiring temptations. Each lengthy narrative piece has spawned the muse for this film which I first saw, aired over SBS in Melbourne, one weekend afternoon.

The script which was awarded an Academy Award nomination in 1995 for

Best Film

, centres around a tiny village with its main player: a comic but naive postman who strives for his fair share of gallantry, the famous but elusive poet who strikes up an uncanny friendship with this misunderstood hero and the fiery viginal Latin beauty who comes in between the two.

The postman's heart is broken when the poet finally goes away and after much faithful and futile waiting, dies suddenly while engaged in a violent scene of political strife. The entire film is based on the postman's temperamental lifestyle to reflect that here was someone who while it may be said; boasted a somewhat silly countenance, was not afraid to dream.

Love poems are the order of the day.

The poet writes out the verses and the postman memorises and recites them for his fearsome beauty whom he later marries. They will have a baby son and it is his tamed and now, understanding widow who will break the sad news of her husband's death to the poet with unmarked sensitivity, when he returns once again.

In

Ode to a Beautiful Nude

, the poet asks with a searching poignant air:

"From what materials - agate, quartz, wheat - did your body come together, swelling like baking bread to signal silvered hills, the cleavage of one petal, sweet fruits of a deep velvet, until alone remained, astonished, the fine and firm feminine form?"

And in

Tonight I Can Write...

, he describes the close of day with sad musings: "Tonight I can write the saddest lines, Write, for example, 'the night is shattered and the blue stars shiver in the distance,'. The night wind revolves in the sky and sings. ...I loved her and sometimes, she loved me too."

Finally, left satisfied with the selection's perfectly sculptured and fine finish, I decide to follow Neruda's suggestion in

I Like For You To Be Still

. "I like for you to be still, he whispers to me, it is as though you were absent, and you hear me from far away and my voice does not touch you....It seems as though your eyes had flown away and it seems that a kiss had sealed your mouth.
And now for a moment, as I am still, his voice catches me.
Labels: pablo neruda The Postman poems