Briefly Told - British Asian Novelist Preethi Nair and her Inspiring Story.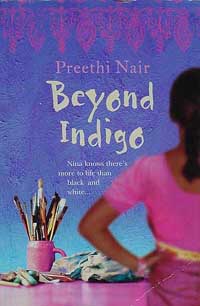 by Susan Abraham
Introduction
From Self-Publishing to the Big Deal

One of the more popular British Asian authors, Preethi Nair, who gave up a high-flying corporate career as a management consultant, to write multicultural fiction - she was forever scribbling notes in the Tube - has today, published 4 successful novels, that are without doubt, still being widely received in Great Britain and other countries, thanks to several foreign translations.
The first one titled
Gypsy Masala
started as a humble self-published effort that deliberately ignored the predictable route. Her leap of faith to jump full-time into fiction writing instead saw her using her savings as deposit for a flat, to pay a printer.
Nair played a secret double role, acting as a separate public relations person called Pru. She used several aliases to submit her own book to newspapers & magazines for hopeful reviews.
Another effort was door-calling; to pound on the doors of several bookshops in the city & in England. Some viewed her ambitions with distaste, but others agreed to a neat supply of orders for
Gypsy Masala
. It was like facing dark and light in equal measure.
She also signed up for a booth at a prominent book fair and sold her debut novel, that had been wrapped in a beautiful
sari
fabric, and which drew gasps of oohs & aahs from onlookers, for her cleverness.
This to say nothing of her earlier book launch that included African dancers.
A creative self-publicist, I might add.
However, Nair soon suffered exhaustion and disillusionment.

This resulted not from her business ventures where she was surprisingly making good headway but simply that she had failed to anticipate certain problems on book orders and distribution.
She had also begun to suffer from an identity crisis, resulting in Nair & the fictitious Pru.

Just as she was at her wit's end, from debt and hopelessness, she met a lady who was so impressed, that she invited Nair to stay with her in the Dales, Nair was later introduced to a guest Tricia Stewart who suggested Nair contact her agent, Diana Holmes. Holmes & Nair clicked immediately and the rest is history.

Nair received a six-figure deal to write 3 novels for HarperCollins, UK. Her publishers also reissued
Gyspy Masala
as a paperback. Today, Nair who resides in London, continues to remain in demand for forums and writing festivals.

In 2005, the BBC commissoned an adaptation of Nair's second novel, One Hundred Shades of White, a narration that spans 3 generations of women, for a telly series.
Sometime last year, I spoke to Preethi Nair for a picture story I did, on her writing time. These are her few words.
"I am currently busy writing a play but prefer not to discuss its contents while my work is still in progress. I have not yet started a new book and I'll only do that once I get excited about witing a novel again. I now have a lovely literary agent who works with me and I get on just as well with my publishers.
"As opposed to self-publishing as being published by someone else, it's not really any different except that I don't have to do all the work in terms of running a business as well as writing and I now have much more time to concentrate on writing my creative prose as it is.
"It's just me, by the way. I don't hold true to any kind of a muse.
"Frankly, it's been a rollercoaster of a ride ever since my first book
Gypsy Masala
, was published. I can't even remember now how I thought life would be like before all this started but now that it has and I am a published author, I have loved every minute of it.
"Londoners tend not to recognise me on the street but they are more adept of course, at recognising a name.
"The way I write would be to state an immeasurable scale...to write and write and write, stopping for nothing in-between except food. I don't have any kind of discipline or ritual.
"Everyday is different though I'm generally quite perky in the mornings. I don't even plan my afternoons or evenings. There is no set thing that I do.
"I sometimes skip breakfast and I don't even write everyday. I take time out, say 3 months and then those 3 months are absorbed with just writing. I don't count my pages and I don't count my words. I just let the story tell itself.
"I may write just as intensely for 8 to 10 straight hours in a day. I don't suffer from anything like a writer's block because I write only when I want to. In this way, I'm ready for my work with my story already fiercely building up in my head.
"I write employing a laptop and also in longhand. Sometimes, I choose to write at home and on other ocassions, I may feel inspired to go away somewhere. I think though that it's very important to take time out from writing and to experience life; otherwise, there would be nothing to write about.
"At the moment, my most important priority is my family but I do hang out with friends alot like anyone else. Normally, my social engagements and publicity interviews are well separated for when I'm busy writing."

- Preethi Nair
Nair continues to be inspired by favourite authors who include British novelist Kate Mosse, Isabelle Allende, Amy Tan and Niaill Williams.
Photograph is author's own.
Labels: novelist, novels, writing life