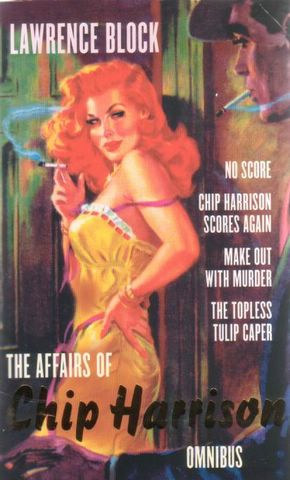 by Susan Abraham
The Affairs of Chip Harrison (
No Exit Press
, 640pp, £9.99), turns out to be more than an omnibus of murder mysteries. Smoky intrigue breathes a mysterious allure that even Perry Mason would be at a loss to accomplish.
In other words, a slap-up slice of sardonic humour is mixed with barrelfuls of steamy sex. Perhaps it helps to reflect on a man's libido striving for
Everest
ambitions.
The adventures of a 17-year old homeless Chip Harrison trying to make his way in Chicago hits high notes as he orientates himself with gangster molls and sly con men. At every opportunity, the energetic Chip makes it a point to get his woman of the day, or should I say hour, if you get the picture.
The youth questions his manhood like a university discourse and paints a childlike picture of sexual desires that suit a couple of romantic notions similiar to the
Kama Sutra
and doesn't leave him too disappointed.
For instance, a curvaceous woman who wouldn't stop asking questions...was she really pretty?...did she have beautiful eyes? Her tight sweater gets stuck while both of them try to pull if off her head.
For awhile, Francine struggles on her own, furiously grappling with the stubborn garment this way and that. In the meanwhile, Chip stares at her breasts with wonderment and goes on to describe their 'heavenly delights' in profound detail. At that point, he also discovers that what appears to be her headless torso stays a beautiful sight.
He wishes he could photograph that moment or paint the strange portrait with her pointed breasts in full view and her "stupid ridiculous face and mouth that wouldn't shut itself up, completely out of the way." That her head would forever be locked in that sweater while he had sex without any trouble!
The women characters are all nicely wardrobed into a seductive collection of scented shades. Think candyfloss and other sensual possibilities. Maternal and kind and stylishly, film-noir-ish, I'd say. For instance,
"her hair was of the reddish-brown of oak leaves before they fall off the tree..."
Block sketches enough of a true-life character to have the reader sympathising and cheering Chip, the underdog on. After all to make ends meet,he once had to feast on sardines and sleep in a cockroach-infested room. Then his Dad shot his Mum.
If you write thrillers, you may want to have a look at
Lawrence Block's website.
A cool site to be sure.