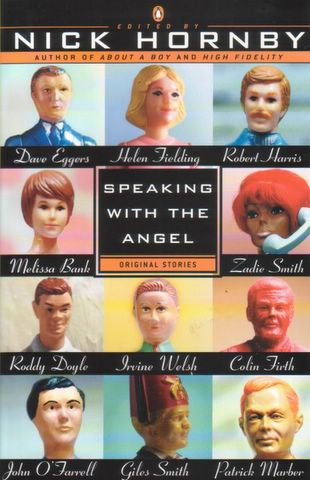 A 212-page storybook that I enthusiastically started and finished reading all in the short space of a day. Of course, this was before the new year.
Not so grand when you think that I had lugged my Waterstone's buy, made up of Nick Hornby's
Speaking With The Angel,
(2000, 7.99 in sterling, 212pp) all the way from London but couldn't get round to it earlier.
The paperback, comprising a delightful collection of 12-darkly comic stories by popular authors and also Hornby's friends, combines charitable efforts together with a pioneering and unique British school,
Treehouse
's activities; to help autistic children on to a terrific independence and new lease of life.
A pound off every purchase goes towards the institution's current creative and visionary education-plan of which Hornby and many other parents of autistic children, continue to happily sing praises.
Anyway, what a wonderful treat.
All my childhood magic of Britain comes racing back when I once again read narrative tales that offer a deep philosophical approach from thoughtful but daring boyhood escapades to a dog's short ill-fated life; promptly provided by O'Farrell, Irving Welsh, Robert Harris, Dave Eggers and Colin Firth among others.
With the exception of American writer, Melissa Banks who writes in that easy light-hearted way, of the fear of growing old while indulging in a romance with a much younger man; all the rest of the pieces are essayed in a crisp, sardonic and extremely-correct
rule-of-thumb
style, that only the smooth mastery of the Queen's English is able to superbly dictate.
Also on hand, are clever original pieces by Zadie Smith, Roddy Doyle and Helen Felding who wrote
Bridget Jones's Diary
. No doubt, you can pick up all the author names and portraits from the thrilling
Thunderbird
sparkly-looking book jacket. A pleasant heartwarming read all round.