A slice of Fiction based on real life events
.

..When the widow of a handsome & formidable Sri Lankan disposition,
Mrs. Periammah Lewis
, embraced Christ as a God of prosperity to increase her profit shares on the Kuala Lumpur stock market and to give her spinster daughter at 40, a banker husband preferably local-bred and from an upright-Catholic-family (no smoking, no drinking, only classical piano-playing and that too, only

Hello Dolly

as an extra), and also, a couple of housing loans, all hell broke loose.
For one, 68-year old Mrs. Lewis insisted on taking her "girlfriends" to church 4 times a week. Her girlfriends were 72, 83, 90 and 64 years of dignified ages in no particular birthday order. I daresay, the 91-year old of course, being highly modern, was seen to be hobbling to the market with a mini skirt, a walking stick and also demonstrating the latest

Chanel

rouge with somewhat of a fearful clownish appearance.

Later, of course, Mrs. Lewis would complain... "These stupid women, what they think..my car is some kind of

BULLOCK-CART

. Jumping in! Hopping in! All big buffaloes.'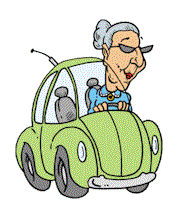 I lived once with this eccentric old Indian lady who first lured me to East Africa, pleading company. Her secret agenda was to have me help her with carrying her luggage of pickles and spices for her grandchildren. That was when I discovered the Tanzania and the Zanzibar and later travelled on my own and of course to all the other places.
But the old lady soon discovered to her horror, that I had flamingos in mind and not onions!
In revenge later when my friends attempted visits, she and her servant would hide behind the curtain, peering anxiously like soldiers and refusing to open the door. Both had thick long plaits that looked like bodyguard pythons. They hovered menacingly like vultures. The servant who fancied herself as the Bollywood Shah Rukh Khan's starry-eyed idol, was toothless!
Whenever Mrs. Lewis summoned LETCHUMYYYYYYYYYYY.... , the maid would attempt an Olympic sprint from the kitchen. "
Yena , amah?...
" What is it mother, what is it, she queried anxiously in Tamil. On understanding her sinful duty of curtain-spying, she would shake her head wildly. "
Tehrima...tehrima..
." Understand. Understand.
On the night before we were to leave for Africa, Letchumy sobbed buckets. Then she became oddly curious. "
Itu barang ah....itu beg semua campak atas kapalterbang, ah?
" Will they throw the luggage on top of the aeroplane?, she queried me in Malay.
On my very first visit to the safari (I have since been about 10 times), we were duped. Mrs. Lewis's son recommended a very cheap travel guide. He brought his friend along. We left at 4am in the morning. The rover sped through hills and plains.
In the rover, Mrs. Lewis shared egg sandwiches and mineral water with her guide. She also complained about the terrible science of lipsticks. Dirty, filthy things, she spat. So ungodly, so wordly.
Finally, the bridge to the safari was broken. We saw nothing. Except that is, for a curious giraffe family and a few grumpy zebras. The boys said it was not their fault. They cursed and sweared at councils and the government. They stuck their heads out of the rover and spat violently on the ground.

One kept watch over the other in case a lion came along and snapped off his friend's head.

Finally, with a woebegone expression, they asked if we could go on to a waterfall for a swim. They swam for three hours straight.
I complained loudly. I was ready to cry. "What a useless safari," I said. No animals, nothing. This is what happens when your son recommends cheap, cheap." Mrs. Lewis looked horrified. She put her hands in prayer form. "Ayoh, please don't tell my son that, he took so much trouble. Ayoh, my poor son, he did his best for us. He is such a good, kind and loving son. Assistant manager, due for promotion and earning so much money.
"You think very easy ah...to go into a safari?" In this curious drama, she turned furious. "Once my son's car broke down. He and his wife were stuck for 11 hours inside the park. No one knew. They were almost eaten up by lions.
SOME MORE, YOU DARE TO DO THIS TO MY SON!"


Later, we stopped at a chalet for a quick wash. Mrs. Lewis pointed to the hills. Look at God's beauty. All the mountains, all the hills...isn' this a beautiful safari? Look at the monkeys, what nice animals...
The monkeys looked anything but nice. They eyed my packet of
cheese-flavoured
Twisties
and threatened me with the prospect of a barbaric
Genghiz Khan
war.
Soon after, I went to Australia. When I next went to Tanzania, it was in my professional capacity as a travel writer. I was determined to return to the same wildlife park. The hotel booked me a wonderful tour agency. We drove past the broken bridge. Of course, all the wildlife thought I was the biggest busybody around.
The hippos were not impressed with my binoculars. The wildbeest dared me to dive in their watering hole and then, I would get what for! The elephants preferred to keep their respectable distance amongst a clump of trees. Even the snobbish zebras embarked on their savannah coffee morning without me.
I asked my now good friend, Paul, about the broken bridge. I paid US$250 for my safari. Mrs. Lewis had paid just US$70. How he laughed and laughed. He said we had got ourselves a couple of con-man guides. Kind but cheats. After all, wasn't it true that when you paid peanuts, you ended up with monkeys.