A childhood tale for a tea break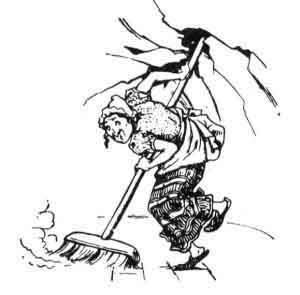 Today, I felt like another read of a children's classic.
I was entranced by this ancient English fairy tale of
Mr & Mrs. Vinegar
.
I confess that despite the familiarity of the title, this rambling tale of a simpleton's idiocy caught in rural village life, proved a delightful discovery.
I don't recall any childhood narration or early bedtime memory.
Even producing an original or appropriate illustration was difficult but I finally managed to salvage one drawing. (pictured above).
I so enjoyed reading the comical and slightly long-winded prose of how a married couple leave their glass pickle jar to seek a fortune, only to bungle it all up. From 40 gold coins jingling in his pocket, the gullible husband dives into enough jiggery-pokery, with which to leave him stranded in astute poverty.
It's certainly a good action story to provoke any child to guffaws, if you spot the talent of a racounteur.
As for me, I was amazed at how the writer seemingly, unmoved by constrictions of society or limitations to what he must write or shouldn't, allowed his tale to flow like a gentle trickling brook, taking its time to feed the moral lesson and also challenging the journey of his own imagination to capture a reader's senses, no matter how fantastical or ridiculous the tale might seem.

The writer's confidence locked in a sea of forests and market days and green gardens, resulted in a classy narration.

How nice on my part to capture these stolen moments of a strange intellectual pleasure and no matter how amateur my own intellect may be, but still precious, and especially when I am able to pop into the kitchen garden of a lost childhood for tea and cakes, while in reality engrossed in these serious business letters to agents.