Second chances don't come twice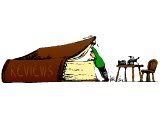 I am the spontanous writer and reader. I don't even have a set time to write.

One of the reasons, self-publishing would never work is that I'd straightaway mess everything up. Also, I love to have people look after me. Just so that I am free to do the things I want.

I must find a way to remember who I've contacted or work that I may have sent out since this is such an intense time. Already, I've forgotten places to where I've sent a few stories and poems.
But now, that I have the idea of books and scripts in mind and these are major developments, I suppose it will be easier to remember.
I only have a limited season to give myself an opportunity in which to hit some form of success. It's like now or never.