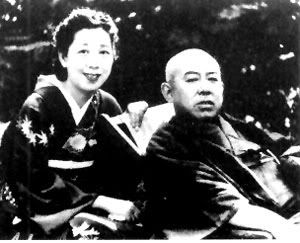 I'm presently reading Seven Japanese Tales by Junichiro Tanizaki.I find it rather thrilling. I don't know myself when I first became infused by the fascinating prospect of indulging in Japanese stories. Perhaps it was after Marukami's Blind Willow, Sleeping Woman or otherwise, it must have been the translated Japanese version of a novella The Sailor Who Fell From Grace With The Sea. It was written by the novelist, actor and playwright Yukio Mishima in 1963.
It actually deals with death.
I read the tales very carefully...studiously, tasting each line, seeking each word. What is it about Japanese literature that makes me watch my pages hawk-eyed?
I think it is the way I discover the writers who all deal with highly bizarre elements from cruel deaths, emotional disarray and perverse sexual situations to eerie introspections and regimented lifestyles with a matter-of-fact straightforwardness, as if you felt the author did not blink once while writing the story but kept marching on - not eating or sleeping but only breathing until he turned to the last page.
And so I am the same.
I love the Seven Japanese Tales, written almost a 100 years ago and which appeared seductively bonded together with the numerous short story collections; all so decoratively arranged for the roving reader's eye, by Waterstone's Piccadilly.