Latest Book News: Cody's SF closes, Starbucks UK to sell books & Dana Vachon blogger-turned novelist is offered film rights for his debut novel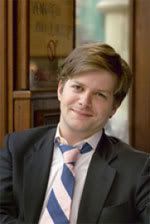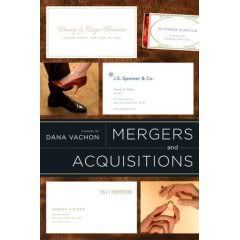 Caption: Dana Vachon a former banker turned blogger turned novelist who sold his blog-novel Mergers and Acquisitions for US$650,000. Riverhead Publishing 2007 (304 pp paperback, US23-95) See news item. (C).

Words by Susan Abraham

a) San Francisco book lovers will return from their Easter holidays to soak in the tragic news that Cody's Bookstore situated between Union Square & Market Street, will pull its shutters down for the last time, on April 20th.

The independent bookshop which operated dangeously close to Border's books a few blocks away, was quoted by Andrew Ross who mortgaged his house to start the business, as losing up to US$70,000 a month. This decision follows 18 months of a battling business. More details in the San Francisco Chronicle.

b) Meanwhile, the Bookseller UK edition reports that Starbucks is to sell books through more than 450 UK stores. What would we do without our cuppa!

c) The Bookseller also reports that former American investment banker-turned blogger-turned novelist, the 28-year old, Dana Vachon has sold film rights for his debut novel Mergers and Acquisitions to the production company, Anonymous Content.

Vachon earned US$650,000 as his first advance when he sold his blog-novel - blog is now defunct - in a 2-book deal to Riverhead Publishing in May 2005, after blogging it over a summer. He was described by Bloomberg as one of the best blogger-writers there was.

The blog that told a tale of lust and drink found its way into trade and a good solid paperback. It describes a young banker who becomes Internet famous but finds that a mix of the perfect girlfriend & a life of yachts amongst other super-glamorous frills are not all what it seems.

The fiction suggests a not-so-fictional account of Vachon's years in banking. To the chagrin of many, the fictionalised institution of J.S. Spenser hinted at Vachon's former employer, JP Morgan. In the novel, many colleagues who recognised themselves were described as cocaine-addled, overworked, pretentious jerks.

"I think that there are definitely people who served for models for some of the worst characters, the Terrence Mathers character in particular, and they are none too thrilled," Vachon admitted to the NY Daily News.

"But I have gotten calls from some of the people I really respected at JP Morgan and they loved it. I guess it's a split along the lines of those who understand it and those who don't."
And yes, Dana Vachon has already been toasted at all the New York parties.

Labels: Cody's Bookstore/San Francisco, Dana Vachon/film rights, Starbucks/books