Snippet of an earlier fiction manuscript I forgot about called The Gossips featuring a group of Indian housewives in Malaysia.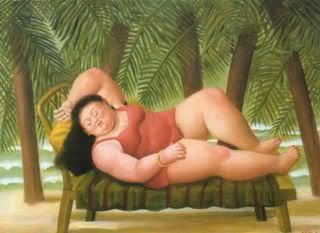 by Susan Abraham
...The frumpy females had the word

dropout

marked on their school accumulative cards. Now they fancied themselves, a sly bit on the career side, having created an automatic self-promotion system where biscuit packers were turned into instant supervisors, ward aides into illegal nurses and temp teachers into headmistresses.
"From where you heard my daughter is working in the canteen?"
Here an angry snort would follow.
"Don't talk nonsense. She is getting good pay, supervising 400 people in a factory!"
"I know people are saying my son is just a mechanic but you wait and see...after his bonus, he is going to buy over the whole GIGANTIC business!"
... Catch that loudspeaker voice on a Friday morning when the vegetable monger had just been.
"Did you hear about Mrs. Magdalene de Costa, you know, the one whose useless husband got himself dead roaring drunk and was throwing chairs at some political analyst fool at the
Tequila
coffee shop last Friday? Pay day what!
"Money in the pocket and thinking he's some big shot!
"Real
samsu
barbarian...behaving like it was his grandfather's shop! And who is going to pay for all those chairs, tell me?"
The insider information continued to be long and merciless.
"Apparently, our de Costa friend who knows out of misery or whatever, is playing nothing but
Suspicion
by Elvis Presley, day in and day out. People are saying one screw is loose in the head. Another is going to drop off. And some more, playing at high pitch volume. And even worse, she is driving Mrs. Lingam next door, bonkers! I tell you, SIMPLY BONKERS! Can you imagine that?
For an important illustration of volume and speed, consider too, the encyclopaedic spread of Mrs. Thanaletchumy Muthusamy's 40D inch bust! It charted up a military and hardy presentation, from whichever angle you cared to study it.
Now, add on to the picture, a fat flying plait like a string of cucumbers and heavyduty California raisins for a 30-year warranty on sturdy nipples. Her bust packed clumsily together, like misshapen gunny sacks, were always trying to rush ahead.
The uneven jellyfish tentacles lolled about with unsure direction; then suddenly took eager astral flights before drooping down again and as with all bad news, finally heading for a downward parachute spin.
Thanaletchumy's counterfeit
Bugs Bunny
smile complemented a moustached lip. Her voice was loud, resounding on an off-key violin pitch.
"After all, you don't know about Mrs. Lingam, isn't it? The thing is this poor lady is already suspecting that her husband is keeping another woman with 2 miserable kids in this kampong place, you know, where is this hideout...ahh yes, Padang Jawa!"
Thanaletchumy studied her star-struck brood. Her plaits now performed a succession of gymnastic feats. Her head rolled about like a classical dancer. Her fingers practised Hawaian twist gestures. Her raised hands exposed 2
Jupiter
circles of sticky sweat.
Finally exhausted, they called for applause. Her listeners, on the other hand, cursed impatiently for the predictable scene to be over. Thanaletchumy lingered for an ovation. Finally panting, her voice dropped to a low whisper.
"For 5 months, she has been living with this worry but he won't admit his crime. Instead, the big hero is threatening to wallop Mrs. Lingam, give her one flying kick and chuck her clothes out.
"And furthermore, now with Mrs. De Costa's ENCOURAGEMENT, she is thinking of packing up and returning to her mother for good in Madras. After all, don't tell anybody you know, she was only here on a visitor's visa!"
Thanaletchumy felt as regal as a queen. Her chest rose to the imaginary Himalayas. Her ambition was to aim for the Everest and plant a flag somewhere in her deep ravine of a cleavage.
She added on a social commentary for good measure.
"First, blindly marry and come... Which man will want her now, tell me?"
"Mrs Emily Koshy, fed-up with the stolen limelight and Thanaletchumy's ramblings, had decided enough was enough and that it was now time for her to throw her weight about with some surety of dignity. Her emergency trump card strode out from behind the curtains.
"Tell the girl if she is planning to go to India, to hurry up, for God's sake! Otherwise, she'll be here next year itself and that useless God-forsaken bum would have beaten her up, nicely black and blue. Once it's October, they will close the bookings and you cannot get any ticket from KL to India. Impossible, I'm telling you!
"Last year, my doctor husband and I tried. Oh God, how we tried! With the best connections available, mind you! What a headache! MAS cannot, Air India cannot, Air Lanka also out; the whole works. In the end, from all this trouble of course, we had to fly first class. And from the stress for nothing, I caught high fever and was hospitalised."
Thanaletchumy stamped her size 8 feet in frustration. Her shiny new varnish called

You Sexy Vamp You,

disguised the ugly yellowish hues of her chipped toenails with flamingo pink. She had picked it up from a nearby supermarket for a dime. She had heard of another brand that had exploded like firecrackers onto a woman's nose and damaged the finer nasal interiors.
Her drop-downs with their
Darkie
twins, sank subdued. They had decided to go underwater snorkelling.
Thanaletchumy hated it at time like these when the gossips ignored her existence. Very clever,
isn't it. Very smart...First like big-shots, mind you, voting her in as general-secretary of the informal
Spy your Neighbour
association. Then making her do all the donkey jobs.
She never asked for much.
Yet, her 11-year old daughter was never invited to any of that stuck-up ("who the hell does she think she is?") Patricia Madonna Fernandez's exclusive barbecue parties. Don't think the wounded mother hadn't noticed. Just watch out. One of these days, she was going to teach that woman properly. Give her hell and high water. ...