Shorts - Arthur Miller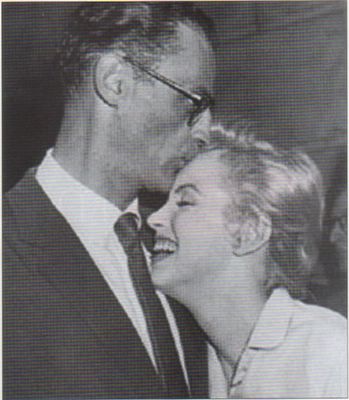 Words by Susan Abraham

Naturally, it was the tell-all tale of those slick b/w photographs which portrayed the late legendary American playwright, Arthur Miller, that gripped the world with the intensity of iron plates clad across hearts. Here above, is a passionate Miller/Monroe photograph that may tear at any heartstring.

Arthur Miller was said to have held a true writer's dream. Writing one of his famous plays (No Villian), hurriedly in just 6 days and a literary novel, Focus, in just 6 weeks that though sold only 90,000 copies to begin with, his work did eventually win a wide acclaim. The rag-to-riches story of a jobless, out-of-school lad who was forced to take menial jobs to support his family during the era of the Great Depression, traced Miller's ardous but determined footsteps before he went on to study English Literature and Journalism, while all the time, staying obsessed with Ibsen. The suave playwright would in turn become screen goddess Monroe's lover and later, her husband. Miller conducted his love affair with Monroe, while still married to his childhood sweetheart, Mary Slattery. Perhaps it is not wrong to conclude that Miller spotted the same dashing air as that of the Italians. Those who wear a hurried grace in rushing somewhere or pacing a floor, yet stay unaware of their readymade beauty. They are gentlemen true to themselves while devoid of pretension.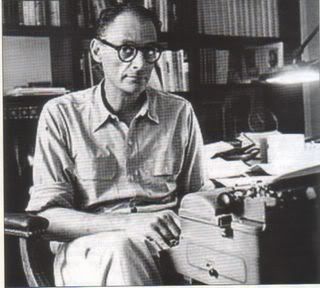 Caption: The playwright with his trademark horn-rimmed glasses, sitting cross-legged and contented in this introspective scene while posing with his manual typewriter and library to complement the silent story.