For Jeffy
A quick book meme for my friend and fellow-writer,
Jefferson Davis.

These are the technicalities:
Grab the book closest to you.
Open to page 123 and go down to the fifth sentence.
Post the text of the next 3 sentences on your blog.
Name the book and the author.
Tag three people.

I don't know if it's cheating to say, that I've only just finished reading the short story,

The Lamplighter

by Charles Dickens which felt festive & Christmassy, although it was anything but.
Dickens reminds me of mince pies; I don't know why.

At the moment in my hand is an old little-known book, published in the 1990s by Books etc in the UK and it's called Fiction etc. It's a small handsome book that boasts previews & extracts of new books about to be published the following year in 1994. and those already in print. There were more than an assortment of 20 fairly long stories in all. Contributing authors included Carol Matthau, Carol Shields and Pat Barker who all went on to become bestselling authors.

I am a great lover of fiction serials, extracts and the like...all of which spell a hint of mystery for things to come and weaving tunnels of enchantment along the way, through the writing voices of different authors that lend themselves to a clear air of excitement.



"My questions were answered when I got to work the following morning and found a big bouquet of spring flowers on my desk. I hadn't decided if I actually liked Michael or not, and when I..."



This extract was from the book

Waiting To Exhale

by Terry McMillan. It captured the hearts of the American people with its debate on African-American relations between men and women. Once published, the novel stayed on the New York bestselling list for months and would be later turned into a film starring Whitney Houston.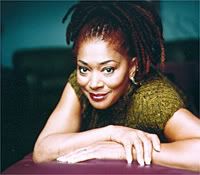 Terry McMillan


I would love to tag 3 people but when it's aThursday night here and already so close to Christmas, I don't know if that is wise. So if you're a book lover and would like to be tagged, please let me know in the comment box. Thanks.

Alright,
Katie

,
&
Sara,
consider yourselves tagged. I look forward to reading both your meme
.