The Wind in the Willows - A Late Discovery For Me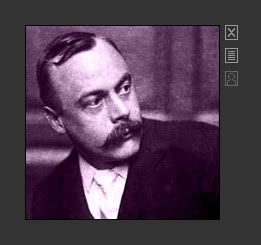 Captions:
(1st Picture: Rackham's drawing of thick buddies, the ever-sensible
Ratty
&
Mole
, on the river bank as they prepare for a picnic.

(2nd Picture: Rackham's fairytale sketch of the kind laundry-maid who helps a shocked
Toad of Toad Hal
l fame escape, as he lies on the brink of a terrifying adventure, one that saves him from gaol but reduces his pomposity to shreds.

(3rd Picture: Kenneth Grahame, the Scottish banker turned author who while living in a painful marriage to the snooty Elspeth Thomson, wrote several stories and amongst these, the famous
Wind in the Willows
as a bedtime tale for his only son, Alistair. The inspiration for an arrogant Mr. Toad was built around Alistair's own temper tantrums and demanding behaviour, which later led to Alistair becoming so spoilt, he grew up with a contempt for his parents.

This
timeless classic of a fairy tale that captured the misty surrelistic images and scenic views of the English countryside for me at short notice, proved a late discovery in life, considering I first knew about it when I was already 20.

A story I had almost forgotten and yet some years back, it was to lend its fairytale magic for the first time to my powerful vision and even now, my aptitude as a writer.

Today, I view the idea of writing a children's story with greater depth and also I believe that in earlier years, I was able to have poetry published all the way in British magazines, whilst still in Malaysia, and children's radio plays aired without difficulty, simply because my imagination was naturally fired up and shaped by influences from this particular story.

For some reason, its humorous episodes of invaluable clumsy lessons, rocketed my spirit to a tremendous exhilaration and ease of spontaneity.

I was enchanted first by England's weekly television series of
The Wind in the Willows
(featured worldwide), that I had to purchase the original storybook edition instantly.

It was all just a simple thing, really.

In the series, are the grandfatherly, bespectacled

Badger

who if not a litle intimidating is certainly wise; the buddy-partnership of

Ratty

and

Mole

and they who often have to contend with their more temperemental and prosperous neighbour

Toad of Toad Hall

from his foolish adventures and scrapes that inspire the sly, gangster weasels to the invention of ambitious crimes.

This from the telly series.

From where too, there lies the little schoolhouse, Christmas carolling parties and all the delights that go with tranquil countryside living in the English woods.

Perhaps my mind was already preserved for the innocent even without having realised it.

Years later, it stays as a story that that solidifies my own belief for loyalty and support in real-life friendships that matter and inwardly portrays too, my eternal scorn at dangerous betrayals.

Toad's simple friends continue to care for him no matter what the cost, even it means having to rescue him from a constant foolhardiness. I don't think I could do that however.

Still the story stays as a valued reminder for me in what I would require, for my choice of beautiful relationships. And I like to think that it's all made possible from one unsuspecting rendition of a simple bedtime story.



If you feel like a read
If you feel like a buy