Parisian Revelry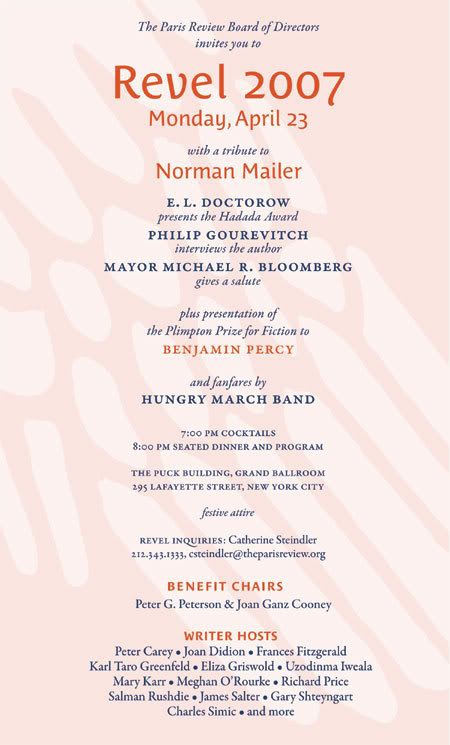 by SusanAbraham
Just picked this up in my mailbox, sent from The Paris Review which celebrates a Spring Revel tribute, to the novelist and playwright Norman Mailer. Read all about it on their website. The acclaimed writer will be presented with the Hadada award by E.L. Doctorow on April 23 in New York.

The Plimpton Prize for Fiction, will also be presented to Benjamin Percy. Percy deemed to be one of America's newer, exciting writers wins a US$10,000 award for his short story, Refresh, Refresh.

Diners may look forward to a festive toast, dinner, a lively programme and the meeting of interesting minds. Amongst the novelists who will play hosts are Peter Carey, Uzodinma Iweala, Salman Rushdie, Joan Didion, James Salter and many others.

Time: 7.00pm Cocktails & 8.00pm Dinner plus programme.
Day: April 23rd Venue: The Puck Building, Grand Ballroom, 195, Lafayette Street, New York City. For enquiries, you may contact:
Catherine Steindler
(please see contact details in the Paris Review link above. I am reluctant to place it here for fear of spam). Otherwise, write to me for her contact.
Labels: Benjamin Percy, Hadada Award, Norman Mailer tribute, Plimpton Prize for Fiction, The Paris Review