Latest from Reuters: Posthumous Tolkien novel on sale today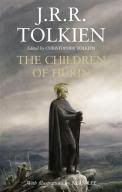 Words by Susan Abraham/News source: Reuters

The Children of Hurin, a posthumous novel by J.R.R. Tolkien, and which had been constructed by his son Christopher now in his 80s, goes on sale today, 34 years after the author's death.

The story is set in Middle-Earth long before hobbits first popped up and was written by J.R.R. Tolkien before The Lord of the Rings.
The plot is shaped by the tragic tale of brother and sister, Turin and Nienor who are cursed by the first Dark Lord.

Christopher who refuses all interviews, wanted to put his father's writings back in the spotlight after the grand success of Peter Jackson's trilogy of films based on The Lord of the Rings. The Children of Hurin is said to be the darkest of all the stories. David Brawn, director of Tolkien publisher, HarperCollins was quick to add that this was not another Harry Potter.
The worldwide print is 500,000 and illustrations are by Oscar-winner, Alan Lee.
Labels: Christopher Tolkien, J.R.R. Tolkien, The Children of Hurin