Latest Book News UK: Spice Girl Geri Halliwell to publish childrens' books in May 2008!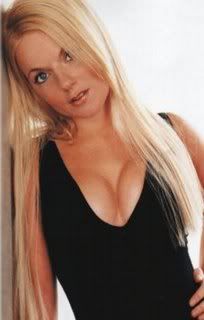 Words by Susan Abraham/News Item Sourced From Reuters
Another star will hit the books when Spice Girl Geri Halliwell, who has sold more than 11 million records publishes her first children's book in May next year, called Ugenia Lavender.

The storybook which features an exuberant 9-year old is the first in a series of six reads to be published monthly, by Macmillan Children's Books.

Halliwell who used to read Blyton says writing fiction is much more fun than singing.

She compared it to playing God where "you could make anything happen with the characters." One of the stories resembles Victoria Beckham as a princess and Halliwell hopes, her former Spice Girl friend will read Ugenia Lavender to her sons. Halliwell who drew her writing inspiration from pregnancy, will also compose a special song to go with her books and will read her own audio edition. Do catch more news at Reuters on pages 1 & 2.
Picture Credit to: Biographies/Leonardo,Italy
Labels: books, Geri Halliwell/Ugenia Lavender/children's book