Anais Nin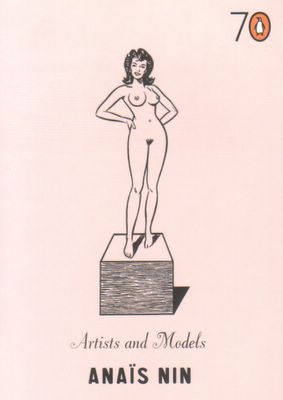 *For me to choose not to write about literature in its obvious form of sensuality & nudes, may be to deny my true existence as a writer, and also to rob my imagination of its individual liberated clutter towards freedom and a sense of wellbeing. - Susan Abraham
Please click on
Anais Nin
, for a fuller biography on the author & diarist,
Having accidentally seen one being sold at Waterstone's Harrods, I had managed without effort once before, to pick up the last
Penguin
paperback (£1.50) called
Artists & Models
by Anais Nin. At the time, there were no copies left elsewhere. Understandable.
Two compact, erotic tales by Nin (1903-1977) fit into a light one-hour read. If your heart is weak, make sure you've written your will first.
The first tale,
Artists and Models
, straightaway examines an outrageous sexual romp that also explores homosexuality, bisexuality and other varied sexual forms. It includes a serious experiment of the wants of the inner self.
"He was 25 and he treated me like a little girl. I was in love with him. Sitting next to him in a car in which he took all of us for long rides, I was ecstatic just feeling his leg alongside mine.
"At night I would get into bed and after turning out the light, take out a can of condensed milk in which I had punctuated a little hole. I would sit in the dark sucking at the sweet milk with a voluptuous feeling all over my body that I could not explain. I thought that being in love and sucking at the sweet milk were related.
"Much later, I remembered this when tasting .... for the first time. -
Artists and Models, Anais Nin
In
A Model
, the content came with the accompanying taste of painters, clubs, studios, models & of course, the classic jealous wife.
"...and when I pose for a whole class of artists at the school, when I see all those eyes on my body, I get so much pleasure, it is - well, it is like being made love to. I feel beautiful.
"I feel as women must feel sometimes when undressed for a lover. I enjoy my own body. I like
to pose holding my breasts in my hand. Sometimes, I caress them. I was once in burlesque. I loved it.
"I enjoyed doing that as much as the men enjoyed seeing it. The satin of the dress used to give me shivers - taking my breasts out, exposing myself. That excited me..."
A Model, Anais Nin
Captions:
From Left
: shows Anais Nin talking to writer Valerie Harms who interviewed her, followed by the picture of her longtime lover, the author Henry Miller of
Tropic of Cancer
fame kissing her.
to the left is Anais Nin caught in a pensive painting with June Miller. June was Miller's second wife. She worked as a taxi driver to support Miller's literary ambitions.
Underneath
Later, Nin would become Miller's mistress and ocassional benefactor. While engaged in a romantic relationship with Miller, Nin would also conduct a love affair with his wife, June. Anais Nin was a naturalised US citizen who spent most of her time in Paris.
Labels: Anais Nin