I'm writing my stage play and hope to run a partial script by you all soon.
The imagination is my muse.
It cajoles and torments the heart to strike up different emotions to suit its fancy, that I would write accordingly.
So i am what you would term a tormented artist..
I'm swamped with an avalanche of new words as soon as i wake up from sleep each day.
From the sublime into the conscious. That's the time.
I thought, no more picture books. No more children's for a while. Just a peaceful stage play of revenge and murder.
And then today, these words came to me: It's just a silly old thing and here they are still very clumsily put: because I haven't had a chance to rearrange anything: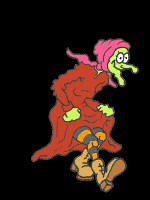 There was a very old woman
in her nightgown of gold,
She had hairs on her chin
and on the glint of her skin
in her deep secret ground.
She went to get some water
and she fell and screamed
then she tripped over a spider
The spider got scared and
for a crisis plan, it was the
why not murder the spiders
their webs, all it took was
tried to save this cobweb
and something of a tickle
kicked and oofed
fell into her cooking pot.